Nimbus 300 Nova R is a nice walkaround boat with walking deck on both port and starboard side. Swimming platform has a round sleek design. On board there is a double cabin amidships and convertible dinette before and toilet with shower.
VAT paid in EU
Authorized inspectory survey is included
Refurbished
IDENTIFICATION
Byggnr: 78
Skrov ID: SE-NIMH0078B505
Motornr: 2006005243
Drevnr: 3102241780
Sköldnr: 41020024107
DRIVE SYSTEM
Volvo Penta D6 (350 hp), stern drive
Engine hours, ca: 540 h
Fuel: Diesel
DIMENSIONS
Length: 9,15 m
Beam: 3,1 m
Depth: ca 1,05 m
Weight: 4,3 ton
TANKS
Fuel tanks: 300 L
Water tank: 65 L
Hot water boiler: Yes
Holding tank: Yes
LAYOUT
Cabins: 2
Berths: 4
WC: 1
Click on the button below to go onboard on a virtual tour on a sister boa with similar layout:
Virtual tour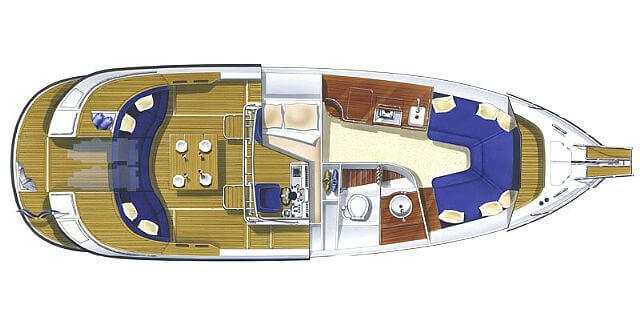 NAVIGATION & DRIFT
Raymarine C80 plotter/radar
Kompass
Bogpropeller
Trimplan, hydrauliska
Elektriska motorreglage
EXTERIÖR
Grått skrov, röd stripes, grå-vita dynor
Komplett teakdäck
El. ankarspel akter med rostfritt ankare
Förtöjningslinor
4 fendrar med Nimbusskydd (nya 2016)
Kapellhytt
Soffkapell
Sittbrunnsbord
Bogstrålkastare
Targabåge i rostfritt
Dusch på badbrygga
Badstege
INTERIÖR
Pentry med ho och skärbräda som lock
Spritkök
Nimbus bestick (4 knivar, 4 gafflar, 4 skedar, 3 kaffeskedar)
Kylskåp
Bord (sänkbart med iläggsdyna)
Radio/CD med högtalare 4 st
Bäddmadrass i midkabin
WC med toalett, handfat och duschkabin
ÖVRIGT
Batteriladdare med landström
Varmvattenanläggning
Defroster/värmare
Seafire brandsläckare i motorrum
Självlänsande akterdäck
Nautilock stöldskydd
Bockhorn och sjövattenlock bytt
STANDARDUTRUSTNING
12V-uttag
Ankarbox med dränering
Badplattform med ankarbox
Peke
Elpanel med säkringar
Fack för sjökort
Fenderbox
Flaggstång och flagga
Grabbräcke i rostfritt
Manuell och elektrisk länspump
Lackad mahogny invändigt
Matta i kabin
Beläggningspollare
Nimbus servis (4 tallrikar, 4 skålar, 4 kaffemuggar, 4 glas)
Pulpits i rostfritt
Rostfri rutram
Navigationslampor
Septiktank med däckstömning
Signalhorn
Ratt klädd i läder
Skylight på fördäck med rullgardin
Vindrutetorkare
The specification is assumed to be correct, but we reserve the right for any written incorrectness and boat will be sold with the equipment which is mounted onboard.
HISTORY
Sailed on the Swedish west coast by the last owner. Stored indoors during wintertime.
PRESENT
Engine and stern drive service has been done. Viewing by appointment.