Til salgs for kunde. Velholdt Princess 57 flybridge, topp utstyrt, registret i skipsregisteret, klargjort for sesongen. Klar for visning i vår salgsbrygge i Dolviken.
LAYOUT / BESKRIVELSE
Princess 57 flybridge med plass til hele familien. Med 3 kabiner pluss mannskapslugar har man 8 sengeplasser.En gjennomtenkt layout av innvendig salong i tilknytning til et velutstyrt pentry legger til rette for en sosial setting. I pentry har man to kjøleskap, frys, oppvaskmaskin, vaskemaskin, isbitmaskin, kombi mikro/grill og steketopp. Innvendig og utvendig trapp opp til flybridge. Stor generator og varmeapparat med uttak i cockpit. Puter i cockpit og på flybridge trukket ny i 2018
-Registrert i skipsregisteret
-Polert
-Bunnsmurt
-Teak slipt og oljet
DRIVLINA
2 x Volvo Penta D12 (1430 hk)
Gångtimmar, ca: ~1100h
Toppfart, ca: 30 kn
Bränsle: Diesel
DIMENSIONER
Längd: 17,68 m
Bredd: 4,83 m
Vikt: 26 ton
LAYOUT
Kabiner: 4
Bäddar: 8
WC: 3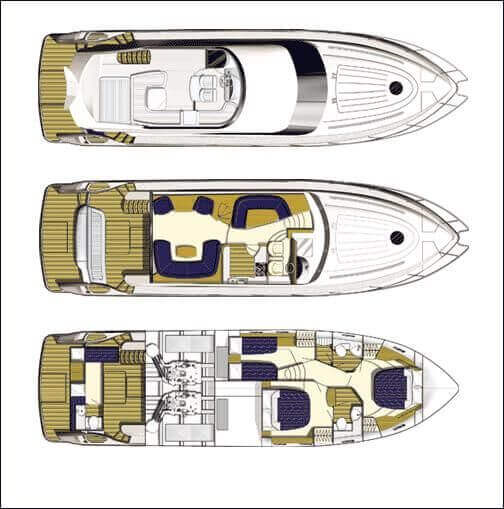 INTERIØR
Beige skinnsalong
Beige teppe
Cherry gloss innvendig treverk
Dobbelt seng forkabin
Dobbelt seng master sidekabin
To enkle senger i sidakabin
Dimmer på lys i salong, cockpit og pentry
To bad
Mannskapslugar akter med toalett
To puffer til spisebord pentry
EKSTERIØR
Grå nirox puter akterdekk og flybridge (nytrukket i 2018)
Kalesje grå flybridge og akterdekk (ny i 2018)
El vinsjer akter
Ankervinsj baug
Teak dollbord
Teak akterdekk
Teak flybridge
Utvendig dusj akter dekk
Ferskvannsspyling
UTSTYR
Furuno Navnet VX2 førerposisjoen
Furuno Navnet VX2 Flybridge (ny i 2013)
Furuno radar (åpen antenne)
Raymarine smartpilot autopilot
Simrad VHF
Logg
Baug truster med fjernkontroll
Hekktruster med fjernkontroll
Generator 13,5kw
Eberspracher dieselvarmer 18kw, individuell styring i salong og kabiner
Varmeuttak cockpit
Passarelle
Landstrøm
Batterilader (ny i 2018)
Lyskaster
Oppvaskermaskin
Kombi vaskemaskin / tørketrommel
Isbitmaskin
Kombi mikro/stekeovn
To kjøleskap i pentry
Fryseskap
Steketopp
Tv i salong
BOSE 3.2.1 salong
Stereo anlegg master kabin (ikke DAB)
Stereo flybridge (ikke DAB)
Høytalere cockpit
Kjøleboks flybridge
Wetbar flybridge
TV i salong
Informationen och utrustningslistan antages vara korrekt, men vi reserverar oss för felaktigheter.