NordWest 420 har blivit utsedd till Motorboat of the Year både 2007 och 2008, i kategorin "flybridgebåtar upp till 50 fot". Båten är utrustad med IPS, 3x joystick och DPS (Dynamic Positioning System) så att man genom en knapptryckning kan få båten att ligga still.
Moms betald inom EU
Besiktning ingår
Rekondad och servad
DPS (Dynamic Positioning System)
3st joystick
IDENTIFIKATION
Byggnr: NW420-077
Skrov ID: SE-NWY42077B808
DRIVSYSTEM
2 x Volvo Penta IPS 600 (435 hk)
Toppfart: ~35 kn
Bränsle: Diesel
DIMENSIONER
Längd: 13,5 m
Bredd: 3,9 m
Djup: ca 1,2 m
Vikt: 12 ton
TANKAR
Bränsletankar: 2 x 600 L
Vattentankar: 500 L
Varmvattenberedare: 75 L
Septiktank: 180 L
Alla tankar är i rostfritt.
LAYOUT
Kabiner: 3
Bäddar: 6
WC: 2
Klicka på knappen nedan för att kliva ombord på en systerbåt med motsvarande planlösning:
Virtuell rundtur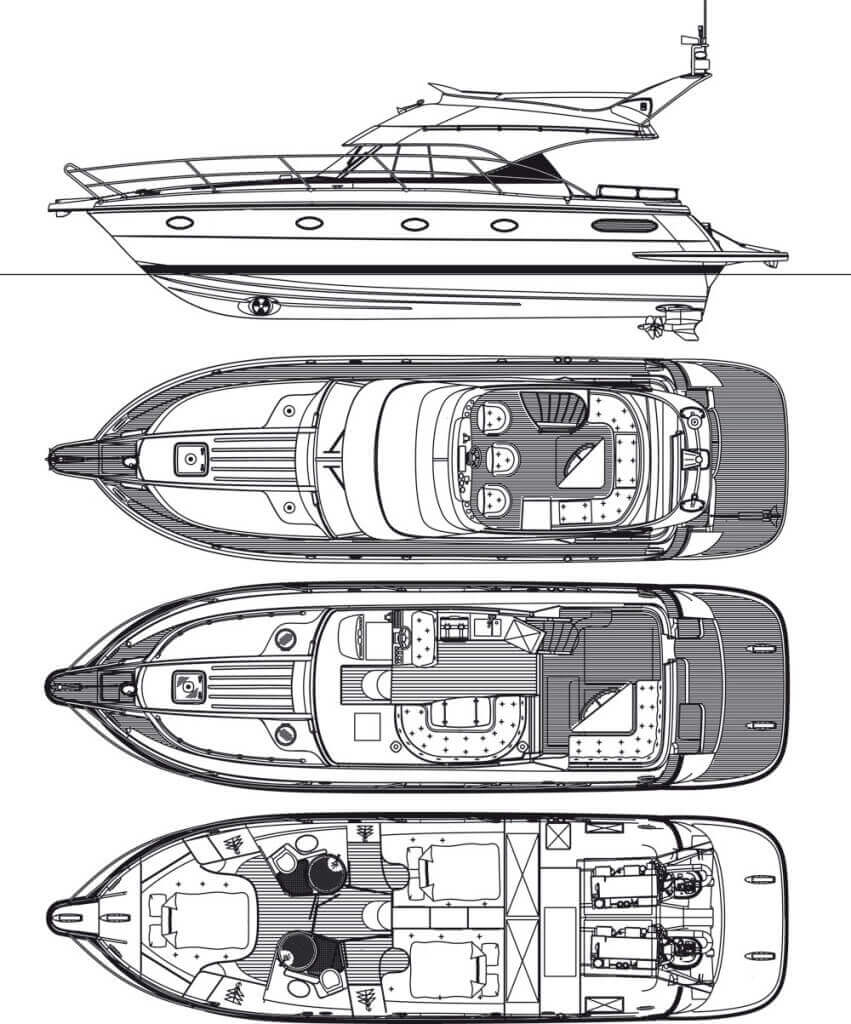 NAVIGATION & MANÖVRERING
3x joystick på förarplats, flybridge, SB sida i sittbrunn
DPS (Dynamic Positioning System, för att ligga still)
Bogpropeller
2x Raymarine plotter/radar 12 tum med 4 kW öppen radarantenn och backkamera
2x Raymarine autopilot med roderindikator o RateGyro-kompass
2x VHF m DSC-D Ray240E
Bränsleförbrukning L/h
2x Logg & Lod, Magnetkompass
Vindrutetorkare med spolning
Hydrauliska trimplan
Defroster
Strålkastare
EXTERIÖR
Blå dynor utvändigt
El. ankarspel förut, rostfritt ankare, kättingmätare
El. ankarspel akter, rostfritt ankare, fjärr
El. sänkbart bord m soldyna på fly
Kylskåp och grill på flybridge
Teakdäck komplett
Kapell sittbrunn, fly och frontrutor
Badplattform m badstege
Dusch på badplattform (k/v)
Flaggstång och flagga
Förtöjningsutrustning
Hydralisk landgång
Rostfria vändbara vaggor
Stävstege
INTERIÖR
Ljust skinn i salong
Löstagbara mattor inne
Bäddmadrasser i alla kabiner
TV i salong
TV i förpik
Stereo/CD/DVD med högtalare i salong och sittbrunn
Corian i pentry
Kylskåp (130 L)
Kyl/frysbox (40 L)
Varmluftsugn/micro/grill
Köksflökt över elspis
Nord West servis
Säkerhetsskåp i förpik
ÖVRIGT
Dieselvärmare
Landströmsanläggning
Skydd mot åsk- o blixtnedslag
Isolationstransformator
Mastervolt laddare med inverter
Dieselgenerator/elverk (3.5kW)
Hydraulisk öppning av motorrumsluckor
LED belysning, delvis
Boat Guard larm
Informationen och utrustningslistan antages vara korrekt, men vi reserverar oss för felaktigheter och båten säljes med utrustning monterad ombord.
HISTORIK
En ägare sedan båten tillverkades och brukad i Sverige och Danmark. Inomhusförvarad varje vinter med fullservice. Full historik dokumenterad.
NULÄGE
Rekondad och servad på Ringens Varv i Marstrand där visning kan ske efter bokning.