NordWest 420 har blivit utsedd till Motorboat of the Year både 2007 och 2008, i kategorin "flybridgebåtar upp till 50 fot". Båten är utrustad med drev med joystick och landgång mm.
IDENTIFIKATION
Byggnr: NW420-109
Skrov ID: SE-NWY42009G010
DRIVLINA
2 x Volvo Penta D6 (370 hk), drev
Gångtimmar, ca: 544h
Bränsle: Diesel
DIMENSIONER
Längd: 13,5 m
Bredd: 3,9 m
Djup: ca 1,2 m
Vikt: 12 ton
TANKAR, CA
Bränsletankar: 2 x 600 L
Vattentankar: 500 L
Varmvattenberedare: 75 L
Septiktank: 180 L
Alla tankar är i rostfritt.
LAYOUT
Kabiner: 3
Bäddar: 6
WC: 2
Välkommen ombord på en virtuell rundtur i en systerbåt med motsvarande planlösning:
Virtuell rundtur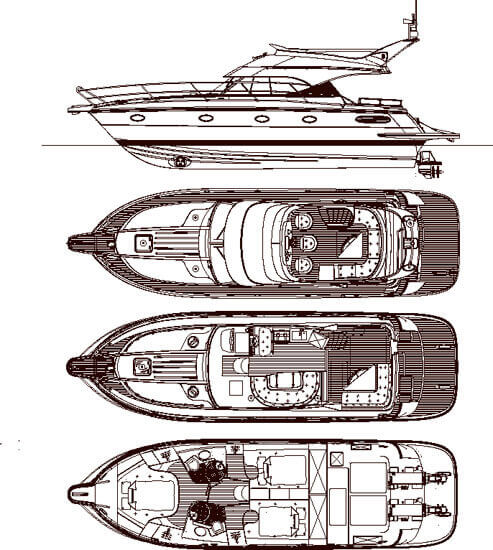 NAVIGATION & MANÖVRERING
2x joystick på förarplats och på fly
Bogpropeller
Automatisk trimning av drev
3x Raymarine plotter/radar 12 tum vid sidan om ratten, i kornisch och på fly med 4 kW öppen radarantenn och backkamera
2x Raymarine autopilot med roderindikator o RateGyro-kompass
2x VHF m DSC-D Ray240E
Bränsleförbrukning L/h
Digitala motorinstrument
2x Logg & Lod
Magnetkompass
Vindrutetorkare med spolning
Defroster
Strålkastare
EXTERIÖR
Vitt skrov
Antracitgrå dynor
El. ankarspel förut, rostfritt ankare, kättingmätare
El. ankarspel akter, rostfritt ankare, fjärr
El. sänkbart bord m soldyna på fly
Kylskåp, grill och ho på flybridge
Teakdäck komplett
Kapell sittbrunn, fly (blå)
Kapell för frontrutor
Biminitop
Badplattform m badstege
Dusch på badplattform (k/v)
Flaggstång och flagga
Förtöjningsutrustning
Hydralisk landgång (kan lyfta gummibåt/skoter)
Rostfria vändbara vaggor
Stävstege
Utombordarfäste
Stereo/radio på fly m. 2 högtalare
INTERIÖR
Omklädda dynor i salong 2020 (ljusbeige, typ Alcantara)
Löstagbara mattor inne
Bäddmadrasser i alla kabiner
TV/DVD i salong och förkabin
Stereo/radio/CD med högtalare i salong/sittbrunn
Stereo/radio/DC i förpik
Corian i pentry, ljus Linen
Kylskåp (130 L)
Kyl/frysbox (40 L)
Varmluftsugn/micro/grill
Köksflökt över elspis
Nord West servis
ÖVRIGT
Dieselvärmare
Värmarutblås i sittbrunn
Varmvattenberedare
Landströmsanläggning
Skydd mot åsk- o blixtnedslag
Isolationstransformator
Mastervolt laddare med inverter
Mastervolt elverk/generator 6.4kW
Hydrauliska motorrumsluckor
LED belysning
TrackGuard spårsändare
Informationen och utrustningslistan antages vara korrekt, men vi reserverar oss för felaktigheter.
HISTORIK
Två ägare sedan båten var ny. Brukad på ostkusten i Sverige.
NULÄGE
Vinterförvaras inomhus i Enköping där båten finns för visning. Polering/vaxning, motor- och drevservice och bottenmålning ingår.