NordWest 420 har blivit utsedd till Motorboat of the Year två år i rad i kategorin "flybridgebåtar upp till 50 fot". Denna båt från 2010 är mycket välutrustad med bland annat DPS (Dynamic Positioning System) som är Volvo Penta-funktion där man genom en knapptryckning får båten att ligga still.
Moms betald inom EU
Besiktning ingår
Rekond och service utförd
IPS/DPS med joystick
IDENTIFIKATION
Byggnr: NW420-107
Skrov ID: SE-NWY42007F010
DRIVSYSTEM
Motorer: 2 x Volvo Penta IPS 600 (435 hk)
Gångtimmar, ca: 432 h
Toppfart: ~35 kn
Bränsle: Diesel
DIMENSIONER
Längd: 13,5 m
Bredd: 3,9 m
Djup: ca 1,2 m
Vikt: 12 ton
TANKAR
Bränsletankar: 2 x 600 L
Vattentankar: 500 L
Varmvattenberedare: 75 L
Septiktank: 180 L
Alla tankar är i rostfritt.
LAYOUT
Kabiner: 3
Bäddar: 6
WC: 2
Klicka på knappen nedan för att kliva ombord på en systerbåt med motsvarande planlösning:
Virtuell rundtur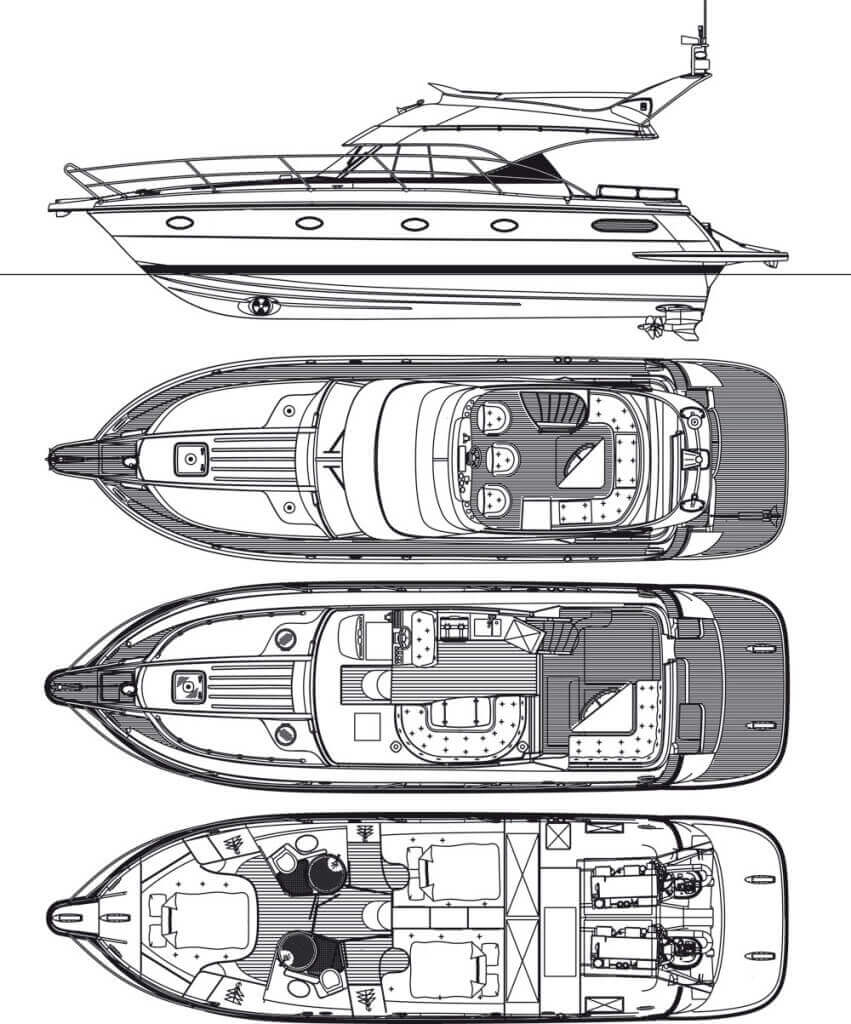 NAVIGATION ETC
3 x joystick; förarplats, fly, sittbrunn (SB)
DPS – Dynamic Positioning System
Bogpropeller med fjärrkontroll
2 x Raymarine plotter 14" E140W
Raymarine HD radar öppen antenn 4kW
Backkamera och kamera i maskinrum inkopplad till båda plottrarna
Echopilot framåtseende ekolod inkopplat i plottrar
2 x Raymarine autopilot med roderindikator, Rate-Gyro-kompass och trådlös kontroll S100
2 x VHF m DSC-D Ray240E
AIS sändare och mottagare
Bränsleförbrukning L/h och L/nm
ACP – Active Corrosion Protection
2 x 7 tums Volvo Penta display
2 x Logg & Lod, Magnetkompass
Vindrutetorkare med spolning
Hydrauliska trimplan, Defroster
Strålkastare, Vatten- och bränslemätare
EXTERIÖR
Antracitgrå dynor i sittbrunn och på fly
El ankarspel förut, rostfritt ankare, kättingmätare, fjärr
El ankarspel akter, rostfritt ankare, fjärr
El sänkbart bord m soldyna på flybridge
Grill på flybridge
Kylskåp på flybridge
Teakdäck komplett
Kapell sittbrunn, svart
Kapell flybridge, svart
Kapell frontrutor, svart nät
Integrerad badplattform m badstege
Dusch på badplattform (k/v)
Flaggstång och flagga
6 fendrar o 4 förtöjningstampar
2st knapar på badplattform
2st undervattenslampor
Biminitop
Soldyna på fördäck
Snap-on-davits gummibåtsfästen
Utombordarfäste
INTERIÖR
Bäddmadrass i alla kabiner
Löstagbara mattor
TV i salong och förpik
BOSE system Lifestyle 18 med två högtalare på flybridge, två i sittbrunn, två i förpik och fem i salongen inklusive DVD
Corian i pentry
Kylskåp (130 L)
Kyl/frysbox (40 L)
Varmluftsugn/micro/grill
Köksflökt över gasolspis med tre plattor
Servis för 8 personer
Säkerhetsbox
ÖVRIGT
RedKnows GSM larm
Dieselvärmare
Landströmsanläggning
Skydd mot åsk- o blixtnedslag
Isolationstransformator
Mastervolt laddare (100Ah) med inverter 2kW
Dieselgenerator Mastervolt Whisper 3.5 (3kW)
LED belysning
Hydraulisk öppning av motorrumslucka
RIB gummibåt Brig 2.70 med Suzuki utombordarmotor 5 hk
Informationen och utrustningslistan antages vara korrekt, men vi reserverar oss för felaktigheter och båten säljes med utrustning monterad ombord.
HISTORIK
Två ägare sedan båten tillverkades. Har använts på svenska västkusten. Har vinterförvarats inomhus varje vinter. Full dokumentation tillgänglig.
NULÄGE
Rekond ingår med full motorservice. Båten kan visas i Lysekil så snart rekonden är utförd. Vinterförvaring ingår till våren 2016.